The Parish Respect Life Group aims to build an awareness of current issues concerning the unborn, persons with disabilities, the elderly and other life issues. For more information, please contact Len Cline at 215.343.4572.
Thank you to the St. Robert and St. Jude parishioners who traveled to Washington on Friday January 19 for the 45th annual March for Life. Once there we joined with tens of thousands of other prolifers as we listened to our President, our Vice President, and Speaker of the House, along with other prolife congressmen, encourage us in our fight for the unborn. Then we marched to the Supreme Court. It was, once again, an awe-inspiring event at which even the weather cooperated.
A BABY'S BREATH
"to help a mother see her child take his/her first breath."
Warminster Corporate Center      65 W. Street Rd. Bldg. B-203     Warminster, PA 18974
215.442.0442
HOURS:
Monday: 1pm to 3:30 pm & 4:30 to7pm
Wednesday: 1 pm to 3:30 pm
Friday: 9:30am to 12 noon
(Other times available by appointment)
We supply hope for mothers/fathers/families in crisis pregnancies & continued support for new mothers.
In need of crisis pregancy help call our hotline at 215.275.4097
email: help@babysbreath.org
VOLUNTEERS NEEDED            Call 267.275.4097 to find out how you can assist
PLANNED PARENTHOOD
Every Friday, abortions are performed at the Louis Drive Abortion Chamber.  Appointments start at 7:00 and the last is at 12:15.
Come join us as we pray for the women and their babies.
Come spend one hour doing the Lord's work.
Call Jan at 215.343.4572  for more info.
HEALING THE WOUNDS OF ABORTION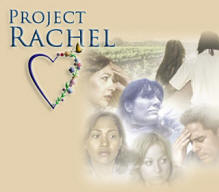 Project Rachel Referral Line: 215.587.5640: A woman who has experienced an abortion may suffer symptoms of trauma, including: guilt and shame; depression and low self-esteem; fear that God will punish her; abortion related nightmares or flashbacks; deep anger; sexual dysfunction; alcohol and drug problems; It is not uncommon for the father of the aborted child or other family members to experience similar symptoms.
Project Rachel is confidential post-abortion ministry operated by the Department for Pro-Life Activities in collaboration with Catholic Social Services. Callers are referred to priests and/or counselors who are prepared to respond to the particular needs common to those who have experienced or been involved with an abortion. The Referral Line is operated Monday through Friday from 8:30 am to 4:30 pm. All calls are confidential.
For more information on Project Rachel and post-abortion syndrome, go to www.hopeafterabortion.com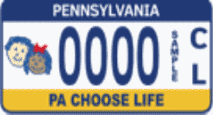 CHOOSE LIFE LICENSE PLATES
For $40 per year, Penndot will fund your membership in PA CHOOSE LIFE. Registration forms are available in the Church vestibule or at www.pachoose-life.org. Your membership helps fund Crisis Pregnancy Homes for Women in Pennsylvania.
KEEP INFORMED ON RESPECT LIFE ISSUES
Check out these websites:
www.ProLife.com                 www.nrlc.org               www.lifenews.com
If you or someone you know has received a poor prenatal diagnosis please check out these websites for support and encouragement:
www.lilysgift.org                             www.benotafraid.net                       www.isaiahspromise.net