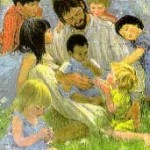 The P.R.E.P. Program provides faith formation and instruction for children who attend public school as well as  sacramental preparation for all the children of the parish.
Our traditional program runs from September to May.  Classes are held on Mondays –5:00 to 6:15 PM.  In addition to class time, each family is required to attend 1 family gathering and 1 spiritual gathering.
Family Option— Runs from September to May.  We would meet for 1 Sunday a month, after the 9:00 Mass, both child and parent. Children would go to grade appropriate classes while parents stay and receive information on presenting the lessons. Parent would then complete the unit at home with the child.  You would be required to attend 1 family gathering, 1 spiritual gathering, and 1 service activity during the year.
We also offer a Summer Option which takes place the first week after school closes in June.  Classes take place from 8:30 AM to 2:30 PM.  In addition to attending classes for one week, families are required to attend 1 Family gathering, 2 spiritual gatherings, 1 service activity and 1 adult faith formation gathering.  Children will also complete  fall and spring religion packets. Children receiving their 1st Communion or Confirmation are also required to attend refresher classes.
Catechists
Our P.R.E.P. program is possible because of our faithful catechists. A catechist is a teacher of the faith.  Anyone interested is required to be a person of deep faith with a desire to share that faith.  Training is provided.
Office Hours
Beginning on Monday, September 11th  our office hours will be as follows.  Please call before coming since vacations may affect hours.
Monday   9:00 AM to 6:30 PM
Tuesday through Thursday  9:00 AM to 4:00 PM
 Friday  9:00 AM to 3:00 PM
For more information please contact our office by calling  215-343-9433 or email us at the following:
Donna Heeney, Director of Religious Education
strobertdre@verizon.net or donnaheeneydre@gmail.com
Barbara O'Neill, Administrative Assistant
strobertprep@gmail.com
Below you will find a copy of our Religious Education Family Handbook.  Please read it carefully since it contains important information.